Imam Tawhidi unleashed a barrage of accusations toward the Australian Muslim community in a fiery new interview with A Current Affair titled 'Turn it Up Tawhidi' on Monday night.
Known for his strong stance on radical Islam, Tawhidi says that any Australian Muslim who would tell you that they do not believe in jihad is a liar.
He also revealed the trademark physical appearance of a radical Muslim living in local communities of Australia, and thinks he knows a terrorist when he sees one.
"Shaved moustache, grow the beard, messy beard, stop using deodorant, these are seen as steps towards detachment from the materialistic world. No more music, they change their ringtone, and they start wearing completey Arab dress, wherever they go."
Australia's Grand Mufti also had a bit to say about the Imam, or the 'Fake Sheikh' as he is commonly referred to, labelling him illegitimate and not recognised within the Islamic establishment. The Grand Mufti says he has absolutely no credibility whatsoever.
Imam Tawhidi hit back at the Grand Mufti, saying what kind of a Grand Mufti does not declare a Fatwa on ISIS, clearly hinting towards the Grand Mufti having sentiments toward radical Islamic values.
Imam Tawhidi was also recently back in the spotlight following his trip to New York, where he sent a letter to NYC Mayor Bill De Blasio warning him of 'alarming radicalisation' occurring inside the Big Apple.
Tawhidi made the letter public, and attacked De Blasio for ignoring his warnings of increased radicalisation prior to the recent terror attack that took place in New York.
The letter was made public and can be read below: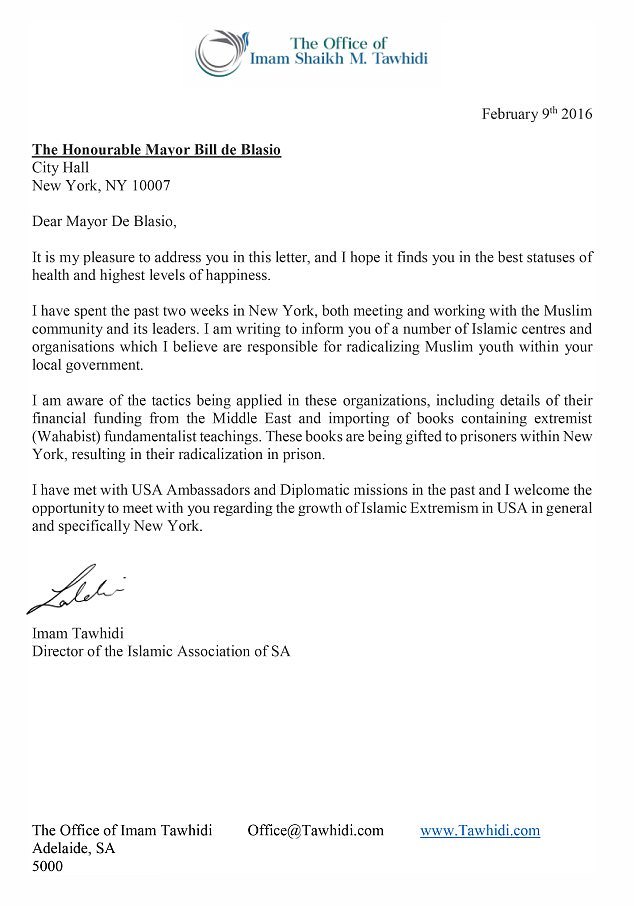 ---
Article by Brendan – Editor in Chief