Prominent Jewish Australian Avi Yemini has started an online petition to have Waleed Aly apologise for his silence on the recent terror attack that took the lives of 47 Coptic Christian Egyptians in Egypt this week.
To add even more salt in the wounds started by Ayaan Hirsi last week on The Bolt Report accusing Waleed Aly of having a 'stake' in the Muslim Brotherhood', Avi Yemini  just created a petition to make him apologise for his wilful ignorance and silence on the attacks on Coptic Christians in Egypt this week.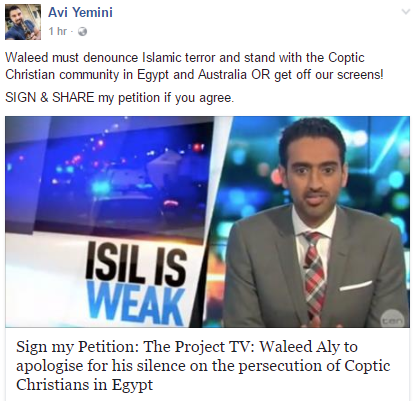 Waleed Aly has received a tremendous amount of criticism, of which most people would think is totally justified, for his persistent downplaying of the threat of ISIS where he most recently labelled the group 'weak' when referring to their capability as a threat to the western world.
The change.org petition reads as follows:
Egypt's minority, the Coptic Christian community are currently being persecuted by Waleed's fellow Egyptian-Sunni-Muslims. They are targeting the Copts on the holiest days in the Christian calendar.

Just this week 44 Coptic Christians were once again horrifically murdered in their place of worship. And once again Waleed's silence has been deafening.

In fact, the only time Waleed has discussed his brothers in arms has been to minimise the issue by claiming that "ISIS is weak".

It's not good enough. Waleed must denounce Islamic terror and stand with the Coptic Christian community in Egypt and Australia OR get off our screens!

SIGN & SHARE this petition if you agree.
The petition has received 1,500 signatures within the first hour of its creation.
---
Article by Brendan – Editor in Chief