Responding to an opinion poll today revealing 45 percent of Queenslanders think One Nation addresses their issues better than the major parties, 7 News Australia's facebook page added a poll of which 75% of people think Pauline Hanson would make a better Prime Minister than Malcom Turnbull.

The poll which is still currently open asks, 'Do you think Pauline Hanson would make a better prime minister than Malcom Turnbull?' Of the 8000 people that have answered so far, a whopping 75 per cent say they would prefer Pauline Hanson as Prime Minister of Australia.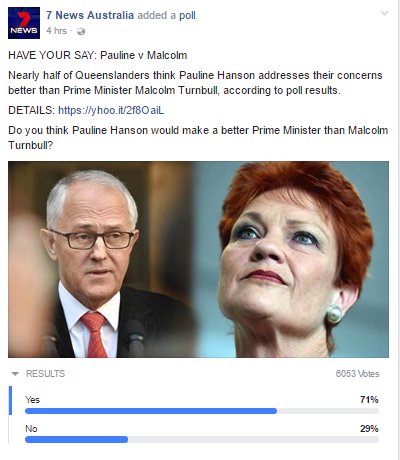 In the opinion poll published in The Courier Mail today, the voting intentions of roughly 900 Queenslanders demonstrated the ongoing trend that the political establishment is crumbling.The poll was conducted on November 9-10, shortly after Donald Trump's unprecedented, but not unexpected, Presidential victory.
In response to the question 'Do you think Pauline Hanson and the One Nation party address issues of concern to Queenslanders better than the majority parties?', 45 percent said yes, 46 percent said no and 9 percent said they were unsure.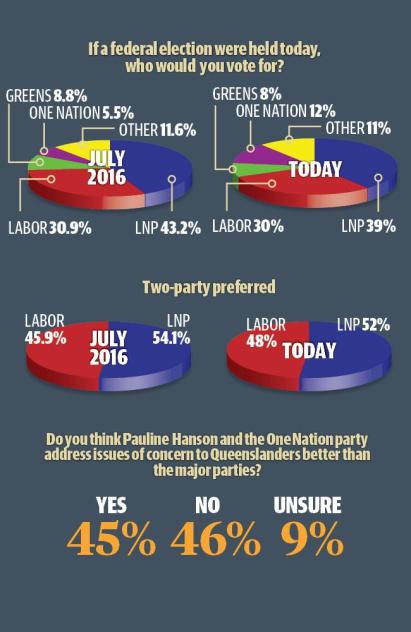 One Nation's phenomenal momentum is showing no signs of waning and the major parties have been scrambling since One Nation's incredible election performance.
Since the election, One Nation's support has literally quadrupled according to a widely circulated Newspoll conducted a few weeks ago.
In regard the unexpected polling results, Sunrise talked about the increased popularity of One Nation and posed the question, 'Like Donald Trump, could the possibility of Pauline Hanson being Prime Minister of Australia be far away?'
https://www.facebook.com/plugins/video.php?href=https%3A%2F%2Fwww.facebook.com%2FSunrise%2Fvideos%2F10153998944140887%2F&show_text=0&width=560
The words racist, xenaphobic and islamophobic have been thrown at One Nation and its supporters so much it's lost all meaning, and today is yet another example of the catastrophic effect for the political establishment when they play the game of identity politics.
---
Article by Brendan – Zero Filter