No matter what political leanings you may have when it comes to immigration, Islam, gender equality or other major cultural issues, its becoming increasingly clear that everybody is sick to death of Andrew O'Keefe's incredible bias, unprofessionalism and blatant rudeness as host of Sunrise.
When he's not regurgitating the usual feel-good crap that is regularly vomited out on this meaningless and irrelevant garbage they call a TV show, O'Keefe likes to put in his uneducated, emotionally derived two cents worth on issues that he has clearly not bothered to research himself.
Time and time again, O'Keefe has shown his absolute inability to be a professional, unbiased host when it comes to facilitating a debate on Sunrise. He rudely expresses his lefty political opinions and fails to remain neutral in debate like a professional host should.
A change.org petition titled "Fire Andrew O'Keefe" is receiving a huge amount of attention and has already received thousands of signatures in the short time the petition has been circulating on social media.
In one of his recent outbursts, O'Keefe attempted to blame One Nation for the angst that Australians feel about Islam and Muslim immigration in an exchange with ex-One Nation leader David Oldfield.
But do people really adore their beloved Sunrise host? One need only take a look at Sunrise's official Facebook page to see the feedback that viewers give via comments on their videos and articles.
In the comments section on the video mentioned above which is titled "Pauline Hanson's momentum", there is an endless amount of reputation damaging comments from Australian's expressing their dissatisfaction with O'Keefe.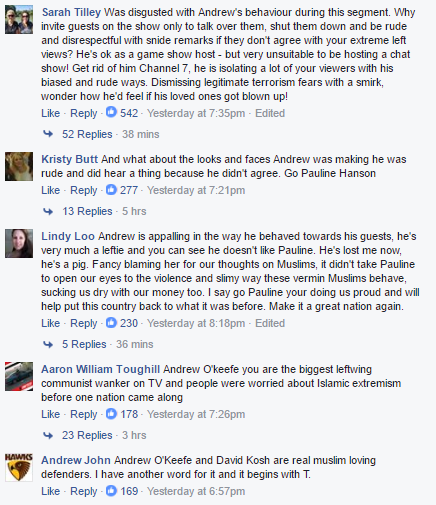 Possibly the most well known mental breakdown O'Keefe had was in a heated exchange with outspoken critic of third-wave feminist conspiracy theories such as the gender wage gape and University campus rape culture, Mark Latham.
For your viewing pleasure…
---
Article by Brendan – Founder of Zero Filter