Mark Latham's Outsiders has taken off with a new improved weekly talk show, street interviews and revamped website that has accumulated 20,000 followers in the short time since his axing from Sky News.
It seems Mark Latham has refused to give up and bow down to the language police who had him axed from Sky News' Outsiders which Mark Latham originally pitched to Sky News as a 'man on the street' type news show.
The new and improved 'Mark Latham's Outsiders' is broadcast live every Wednesday night on Facebook from a fresh, new looking studio in Sydney. He is joined by two guests every episode of which Miranda Devine, columnist at the Daily Telegraph, has featured on all of the first three episodes.
With no advert breaks or plugs throughout the show, Mark and his guests talk about issues the mainstream media avoid like the plague. Whether it's cultural Marxism and the indoctrination of our education system by Safe Schools, Domestic Violence and the myth that all domestic violence is perpetrated by men, identity politics and the race/gender agenda pushed by the radical left.
Miranda provides a refreshing analysis on gender politics and the scourge of cultural Marxism that has infested the hearts and minds of our youth and the demonization of white male Australians.
In addition, Mark  has taken to the streets of suburban Sydney to confront lefties on their hypocrisy when it comes to Australia's refugee intake and their views on Donald Trump.
Mark speaks to Muslims from Liverpool on south-west Sydney where he discusses gay rights, domestic violence, Sharia Law and more.
A fresh new website has been launched at www.marklathamsoutsiders.com with his Facebook page reaching over 25,000 followers in a matter of weeks making it very clear that Mark is not going away anytime soon.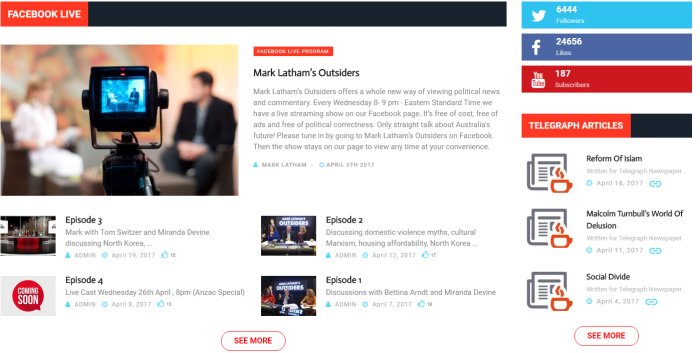 Social Justice Warriors run to your safe spaces because 2017 is set to be a year of major triggering and micro-aggression courtesy of the feminist wrecker himself, Mark Latham.
---
Article by Brendan – Editor in Chief